by supershag on Oct.16, 2013, under Dessert, Free Wi-Fi, Restaurants, Stay Here If You Can, Swanky, Toronto, Vegetarian, Wine
Victor restaurant was a pleasant surprise for my stay at Hotel Le Germain in Toronto, it really held up to the five star experience the hotel gives.
They offer a tasting menu and al la carte, as well, if you are headed to the theater they have an option that will give you the full experience with a faster turn around.
We ended up ordering a few options across the menu so we could have a variety of tastes throughout the evening.
'Little Portugal' Lobster and Chicken Cataplana, chorizo, rice and saffron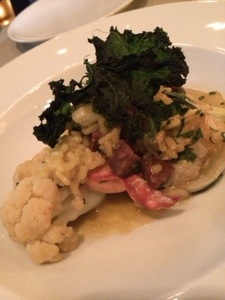 'Les Miserables' Duck Breas 'Al'Orange' Pomme fondant and carrots.
Sushi Pizza 2013! Sashimi, lobster salad, roe, avocado, crisp rice and wasabi-miso dressing.
Seasonal Vegetable Casserole
The night finished with a tasty takeaway left by our waiter of caramel covered popcorn squares.
The space is small and gets really busy as the night goes on, I highly recommend making a reservation at Victor Restaurant in Toronto's Hotel Le Germain so you can ensure you'll be able to get in.

Leave a Comment
:Canada, Toronto
more...