by supershag on Oct.17, 2013, under Beer, Cafe, Free Wi-Fi, Restaurants, Roof Deck/Patio, Salad, Toronto
Stopped in to What A Bagel! for a quick lunch. It's a popular spot for folks working in the Toronto fashion district as it's top quality food and fast service.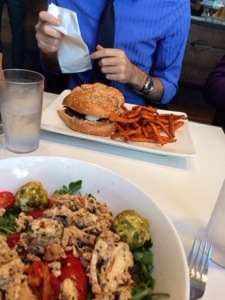 They have an extensive list of sandwich (on a bagel) and salad (with a bagel) options! I went with the arugula salad topped with chicken (sans bagel) and my friend tried the burger with sweet potato fries.
It's a casual spot but worth a stop if you're in the need of a quick bite to eat! Also if you're from the states you'll be able to take advantage of their wifi to stay connected with e-mail and online travel plans.
Table side discussions also revealed if you visit on your birthday with proof of ID you'll walk out with a dozen bagels of your choice!

Leave a Comment
:Canada, Toronto
more...